[Cosplay] EB Expo Sunday
EB Expo @ Sydney Olympic Park
Ok, so I lied about the next convention report to be Winter Comiket... just not yet.
Hehalana organised a last minute trip for the
EB Expo
on Sunday. When I say last minute, I mean getting the ticket on Thursday and going on the Sunday (We missed the pre-reg period due to much tossing around going or not going). Hence with the short notice, we went recycled our old cosplay.
Aegis from Persona 3 @ Hehalana
Kato from Green Hornet @ Ry-Spirit
Sakura from Street Fighter @ Nabari
Yep, it was three unrelated cosplay.
Plus, it was all our first time attending EB expo. We've heard many stories about EB Expo, the queues and scary gamers. But we went regardless and here's our take!
Warning: Photo spamming follows.
Saturday - Daylight saving
Yes, Saturday night was daylight saving, meaning we lost an hour of sleep. orz For us it was probably more than the hour. The original plan was that Hehalana was gonna cosplay as Chun Li, however, with our
brilliant
organisation skills, we managed to misplace our cosplay accessories for the Street Fighter characters! I managed to found all bits and pieces around 2am… while we decide on the option of changing it to Persona 3 with Aegis and Mitsuru or Hamuko and Aegis.
Sunday
Woke up an hour after the expected time as we did not adjust the alarm on the phone. orz Texted Ry around 8:30am to tell him to come an hour later, but he arrived to our place at 9am. We left him sitting around the family room waiting for us to get ready for an hour. >-<' (Sorry Ry!) Hehalana decided that she wanted to do Aegis in the end and I kept my decision to do Sakura instead of Hamuko (I want my hair to be reddish brown if I was to cosplay as Hamuko).
Arrived there at approx 11:00am-ish, put our wristband on the left hand instead of the right hand, which made it slightly difficult to scan. orz The entrance reminds me of when I last did my CitytoSurf, and the scanner made me felt like a product. lol Though I must admit that it seems more systematic (and more efficient) compare to all the other conventions I've been to.
Got our event schedule (though we hardly read it since it hardly have anything on Sunday), then we headed towards the Home Grown Gaming Pavilion. For us it was pretty much the Cosplay Pavilion since the cosplay competition is held there. Didn't really check out the homegrown games.
We realised there wasn't much in there but managed to have a free photo taken with the Persona 4 animation promotion at Madman stall! I knew we should have done a Persona 3 group. =A=
Then we headed straight to the gaming venue! Queues were relatively long for Nintendo so we walked around the area until we figured what we want to try out.
Had a brief look at Epic Mickey 2, never actually played Epic Mickey, but it looks like a spinoff of Kingdom Hearts. XD
Both Hehalana and I was amazed with the entrance for EB, I only imagine Japan E3 to be many times more awesome.
EB merchandises... not enough games and none that I want. I wanted this Gears of War gun though.
Checked out this Graffiti wall game, only if I have a TV that size!!! Didn't see what the company name was though. D: We saw it by chance when we were looking for Ry's entry for the Artboy Competition.
Avenger iPhone cases! Funny though since iPhone 5 doesn't fit...
Scribble Nauts too *is a fan*
More cases!
Skylanders GIANT indeed! Didn't go in because the queue was too long.
Assassins Creed! Long queue also.
South Park!?
My favourite console - Play Station booth
Smash Bros All stars on PS!
Little Big Planet on Vita
Metal Gear Rising! Saw the gameplay, looked like Tenchu! XD
Rayman!
So many people queuing for the Zombie bus. Missed the Zombie though.
LEGO! I wonder how many blocks they used for this.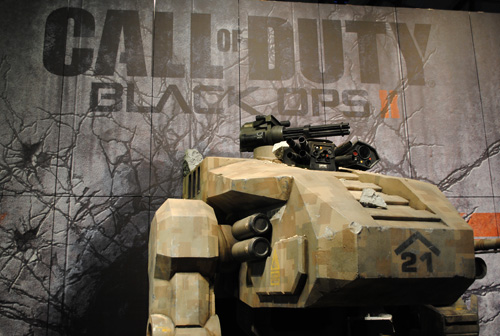 Have to say that this Call of Duty setup is the most EPIC one out of the whole expo!
Not gonna post all the booth photos since not all of them were related to games! But I was thrilled to see this booth with... PERSONA 4 ULTIMATE!!!
DAMN I KNEW WE SHOULD HAVE COSPLAYED PERSONA! Ry actually looked like Naoto without the mask so we got him to use Naoto while Hehalana whose cosplaying as Aegis to use Aegis (I'm not used to the spelling Aigis
).
My two favourite characters from the Persona series!
Though Naoto got KO by Aegis, and I used Elizabeth to KO Aegis! XD Elizabeth the boss in P4U I believe!? So that's probably why! But I love them all!
After all the fighting we got out to have a late lunch and then headed to watch the second half of the cosplay competition. I didn't see all the cosplays but here are some of the cosplayers photos we took on the day.
I missed most of the cosplay competition because I saw Vivi heading out of the cosplay competition so I ran after him. Took a few snaps of him and I got carried away talking about his costume and Final Fantasy IX group... pretty much until the end of the cosplay competition.
Half met his friend Antonius, turns out both of them were from Brisbane, but felt like I've seen them so many times at Sydney conventions. @.@
Stole Vanilla's hat and staff to transform into Mage Sakura!
After much chatting, we decided it was time for us to head to Nintendo Land!
Nintendo Land!
Scribble Nauts!
Aegis having a go at Wii U. Basically a basic game to explore functions of the Wii U.
Would say at this stage I don't plan to get Wii U yet, despite how fun their party game Nintendo Land and Super Mario! They need more games!!! But the introduction of the 5th player and the change of perspective is relatively interesting and fun! I look forward for more games to come on Wii U.
The new Professor Layton on 3DSXL! To be honest both Hehalana and I didn't enjoy the 3D so we basically turned it off. :I
Reminder for those who forgot to get a Keldeo!
Tested many games such as Pokemon Black & White 2, Pokedex Challenge, Professor Layton, Zelda, Super Mario and Silent Hill. I enjoyed the top view from the 3DS booth which is set at the highest point of the venue!
Decent traffic!
After several more game testing (where I totally had no time to take anymore photo), we wandered around the place again to the Call of Duty booth again to find it empty. So we took a few more photos with it before we had to leave to see the EB Expo Grand Finale at 3pm.
We notice it the background suit Aegis too well. If only Hehalana wore her Aegis robot cosplay! We didn't have proper lighting but the photos still looks good!
Kato!
After the previous photos the camera ran out of batteries. So my photos was taken with a my old camera. :I
Headed outside the venue to hear the price slash for the EB T-shirts! I was slightly tempted until Ry and Hehalana said it was not worth it since we're most likely not gonna wear it. As they were looking at what else is on, we bumped into Vanilla and Antonius who were both out of cosplay. Not noticing it was Antonius, I said I saw him at Japanese Garden before when he was cosplaying as Kirito from Sword Art Online! That was when I was told he was the Gilgamesh that he's the same person. Talk about recognising people in different cosplays!!! orz
Cosplay Evolved! Basically cosplay competition with skit! Only they all have a relevant cosplay video to introduce themselves on to the stage!
We Barely made it into the hall for the EB Expo Grand Finale (apparently due to full capacity) to see the Cosplay Evolved. At this time my DSLR camera already ran out of battery so unfortunately I have no photos from it. It was enjoyable but the amount of people who left during the event was distracting.
Surprised to see daylight when we're done with the EB Expo! Well, it does end earlier than most conventions and plus it was daylight saving.
Here's my loot for the day!
I have a feeling I'm going again next year for sure! :D And for those who thinks the admission price is expensive, think about pre-reg because it's definitely worthwhile attending for playing new games (that you may never thought of getting), take some photos, get some merchandise on discount, grab some freebies and enjoy a convention!
Next convention report will be for Winter Comiket! (For real this time!)
Titles on Wii U
Nintendo Land
- basic functions of Wii U will be used in this game. Definitely the first game you'll get when you have a Wii U. My particular favourite was Animal Crossing on there! I love the introduction to the 5th player, basically the inital 4Ps are to team up to defeat the 5th player! Though I note that it means that the 5th player have to seat elsewhere where they're not allowed to see the 4Ps screen.
Super Mario Bros. U
- If you got Super Mario Bros. and love it, you'll love this even more! The 5th player takes on the role of a saver, who puts in boxes/bridges so that the players doesn't die. Although, depending on who you're playing with, may end up killing you. XD
Pikmin 3
- Though not having tested the game (since they didn't have it for testing), but having collected Pikmin 1 & 2, there's no way I'd miss Pikmin 3!
Wii Fit U
- Check out their
Pokewalker
walker! It look disturbingly like a Pokewalker, except you can't put your pokemon in to level, they show you calories instead. :I
ZombiU
- Hehalana and I went for other games while Ry went to test ZombieU. Apparently the use of Wii U was close to pointless. Not my type of game.
Official Site
theme : Cosplay
genre : Anime/Manga