[Drama] Taisho Kyuuketsu Ibun
Motto Otome Vampires!
It's been a while since I last checked up on
Aura
's (aka
Gignosystem Japan
) games, since they were one of the
first
Otome mobile game I found with decent quality images and music.
Based on the original title Tokimeki Youen Vampire, which now they moved on to Drama CD series!
Moreover, they are now voiced by popular seiyuus! The ones that caught my attention are Sakurai Takahiro and also Tsuda Kenjiro!
It should be noted that they both of them recently have been on some vampire roles prior to this! Such that Sakurai in
Diabolik Lovers More Blood
as
Mukami Ruki
and Tsuda in
Kidan Vampire
as
Kurobara no Koutei
! Generally speaking there's been a flood of Vampires and Do S characters in otome drama since Diabolik Lovers... what have our world turned into...?!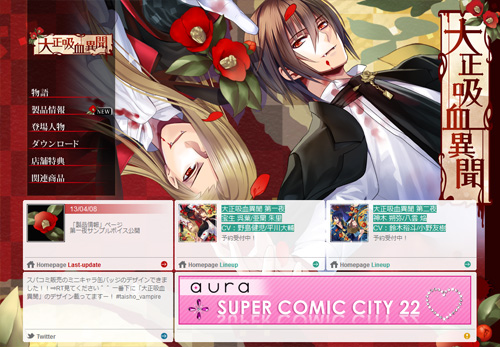 The main characters of the whole story...!
The Drama CDs are to be released over 5 months. Sample have been released for the first volume (It's actually avaliable on their website *nudges*) and apparently it is far more crazy compared to Diabolik Lovers! Well, it's likely the fact since they first releases "versus" rather than individual route drama CD? XD
There is abit of spoiler here for those who haven't played the game...
so be warned!
Characters
First Night
to be relased on 24/04/2013
Houjyou Kureha (CV: Nojima Kenji) - Yandere Vampire
Aran Shuri (CV: Hirakawa Daisuke) – Do S Vampire
Second Night
to be relased on 29/05/2013
Kamiki Sakuya (CV: Suzuki Yuuto) – Cool-dere
Yagumo Homura (CV: Ono Yuuki) – Oresama
Third Night
to be relased on 26/06/2013
Hinamori Nagi (CV: Masuda Toshiki) - Tsundere
Touya Gai (CV: Tsuda Kenjiro) - Wild
Forth Night
to be relased on 31/07/2013
Hiiragi Yutsuru (CV: Hatano Wataru) - Oniisan
Munakata Ayato (CV: Sakurai Takahiro) - Tough
Fifth Night
to be relased on 28/08/2013
Ichinose Hisoka (CV: TBA) - Delinquent
Kashiwagi Ibuki (CV: TBA) - Shitsuji
I might update when they have more banners - then again I feel abit lazy. I need Sakurai's and Tsuda's NOW! I haven't been updating much on the banners on the right hand side... orz!
To be honest, I really thought Tsuda should have been Shuri! (That whole Kazama vibe is in that character!!!
)
I wonder if they'll ever remake the mobile game onto proper console game with fully voiced sentences?! I know it's wishful thinking but it's possible given the illustration and character design by Bunta is so smexy and all!
Official site
theme : Otome Game
genre : Games