[iPhone] Kabedon Sukitte iumade Nogasanee
What's your dream Don situation!?
It's every girl's dream to be Kabedon-ed by a Ikemen!
Finally back on to some otome game talk!
It was funny because my friends and I was talking about Kabedon event from an otome mobile game company at the Tokyo Game Show some time ago now (The media release is
here
), and we talked about other types of don... and to think there's an app for them too! XD
There is also the Kabedon Collection app by Yuuto Ueda, but I thought I'll skip on making a post for that one since this one is more 'interesting' (Coloured CGs and games are always more appealing...
)! Mind you that app also made me laugh with the blackout "Don
"... like typical sound effect for various type of Kabedon! Anyway I shall stay focus on this one that is brought to you by
Cats Apps
!
Don-don-don!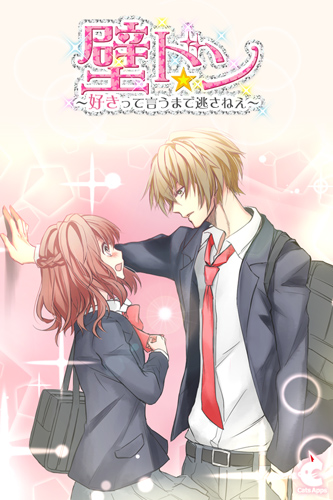 Official pairing! lol
Prologue
Tokabe Kakeru have a crush on his childhood friend for the longest time. One day, he found a note about that says I wonder what it's like to be like Kabedon-ed by a certain guy. Since then, Kakeru strive to achieve the ultimate kabedon!
Don no Ikemen
Kabedon
Yukadon
Ashidon
Semidon (Cicada Block)
Gyakudon
Kaodon
Zudon
Tendon
Andon
Utlimate (3 different ending)
Nabeyakidon (Bad end)
Pteranodon (Normal End)
Poseidon (True End)
Gameplay
You control the Ikemen high school boys to kabedon female students (Well there's really just two different students to be honest lol).
Each Kabedon includes a voiced line (For some odd reasons, I think some lines are the same as the other Houchi apps that I have played before... freebies?!) and a cut scene!
Female students will return overtime. Increase the experience gauge to evolve the Ikemen and progress with the story. There are over 7 different types of Ikemen. Unlock the ultimate Kabedon upon completion!
Tips
* Ensure you share (Twitter/Line/Facebook) for bonus stage. Each poster girl is 1 points.
* Each student is 2 points.
* Each Envelope icon (Ikemen takes out a mobile phone instead) is 30 points.
* Experience points x1.5 when the experience gauge sparkles. I don't think it works after first completion.
* Experience points doubles after first ending completion.
Thought
In the past, Kabedon are seen as romantic version of wall slamming (Shoujo manga trained us well)... but now this is just trolling!? XD I like to labeled the characters as the Don Boy, Donned Girl (Last two rounds) and Troll Donned Girl (Last ten rounds!?
) in this section here. I can't say they're the same Don Boys to be honest. It makes me feel so bad for the troll donned girl especially when it looks like all the don boys hates her! So normally I'd rather wait until the mobile phone comes on than to don 30 girls. XD
That practicing at home with a girl poster cracks me up. Notice it's always Kakeru (Newbie) for the bonus stage.
SO much troll for this app honestly. But I won't spoil much with the troll don CGs, I'll leave you to discovered the wonderful world of Kabedon. lol Well to add to the hype, Nissin Cup noodles had a
parody ad
on it, there's also the Pose catalogue for drawing, and a Kabedon cafe too!
Hurry and get to the don-trend with this app!
*NOTE: Good kids should not try this anywhere!*
theme : Otome Game
genre : Games