[Android] Ryman Collect
SalaRyman Collection!
Brought to you by
Orange Inc
! I suppose the general otome gamer's age group have finally aged to be interested in Riiman (Ryman) - which is short for Salary man in Japan!
Originally released by GREE as a Social card game where you collect cards and unlock office stories. With over 70 suited up characters too illustrated by various artists from otome mobile games that we're familiar with!
Let's start working!
Funny enough, they're not the main characters! XD
Prologue
One evening you were approached by Kirino, your father's secretary, who came looking for him. Unfortunately, your father was missing and have left a note. You are now the newbie company president of the company, but the company is always in series of pinch. Work together with Kirino and deepen your relationship with the talented Ryman (employees) to over come these situations and towards the top of the working world!
Gameplay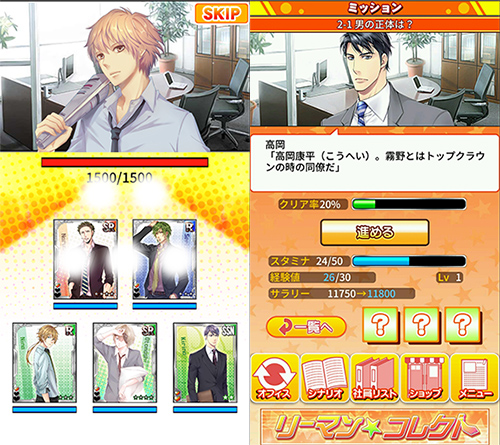 Boss stage and Missions.
You'll be given a Ryman for starter and you would gain more Ryman as the story progresses. Send them on missions to earn more coins! You need to have enough stamina in order to take on missions and fight bosses. You're giving 3 full recovery of the stamina or you could replenish the full stamina via watching ads (Up to 5 times a day) or you simply wait 3 hours for normal recovery over time. Upon first clear you get the R card of the character you have chosen upon mission Start. It takes 1 points for mission and more points for bosses.
Choose your type!
There are 3 types of Ryman - the literature (Higher defence), sporty type (Higher attack) and science (In between).
The cards are ranked by rarity (from low to high) by N, R, SN, SSN, SR, SSR.
Tips
* Keep all S rank and above!
* Don't forget to hire employees, as the rarer cards tends to come from hiring instead of through missions!
* Don't forget to develop the (duplicated) employees...
* Don't use stamina recovery if you're nearly levelling up, as your stamina will be fully recovered upon levelling up (Pity they don't carry forward orz)!
* Tidy up your team with auto organise function. Don't forget to do the main members and sub members!
Thoughts
This one sounded better than it actually came out to be. lol I like how there's a lack of ad blocking the graphics and how smooth it is run. But the story got abit boring or too short as it progresses. I was happy that I finally got a SSR the other day, though I didn't like how there's no manual team setup apart from the automatic one. That said, suppose I need to burn all the other Ryman for the S rank and above!
There are 21 chapters in total, but they intended to add new cards and quests such as fireworks and Cherry blossoms events! So start tapping away today!
It's been a while since I saw a sharing banner like this, so I've decided to include it for this post! :D
Official Site
theme : Otome Game
genre : Games