[LR] Third round! SydAni Cafe
Chinese themed pop up cafe!
The third SydAni Cafe was held on 26th February 2017, the Sunday that just passed.
I was going to decide if I will go depending on the food range (I was seriously thinking about there is bound to be one dumpling dish, but ending up not seeing any lol), but was later double booked by Hehalana for a Lolita Swap meet. In the end we dropped out a week beforehand and I was free again to go again!
Unfortunately others have made plans and hence we booked into the first morning session. We normally go to the last sessions after food, so this time was abit different.
This time round I went last minute as Gense version of Hakutaku with a small kingyousou plushies (I'm just a fan of Kingyousou plushies and not so much of Maohaohao lol) from Hoozuki no Reitetsu! This marks my third character done for the Gense versions.
Still love the series, but they only have OAD and not season two of the series. =w=
Below the cut are just some photos and thoughts on my experience during the session!
They've change the venue this time at
Chattie's Komachi
, which is located in the mini shops area opposite the Chatswood Chase. For once we were running late, and not to mention we didn't use public transport too! What's different is that this time we went as trio due to the increased number of food range.
Quick picture just before we went in, although we were running late. lol
Probably we have become more of the regular customers now, they didn't check our name off the list this time. =w= Then my memories of what happened on the day just keep coming and happening one after another without much break... somehow felt rushed.
Upon getting our Chrysanthemum Tea (This words gets me every time since it's so long...), we notice one of their regular staff wasn't there (Really, until Bambi mentioned it lol). But I did notice the amount of refill for my hot tea have significantly reduced compared to the past sessions. I missed her too. lol
The organiser Tsubasa Rin came and gave me photos of my last session's cosplay... I was aware of getting a photo if you cosplay from last session which I thought didn't eventuate, so it did caught me by surprise. lol Way to encourage more people to cosplay and go to their event.
Though in my case, I like to travel in more comfortable cos since it allows me to eat and do the activities without much hassles.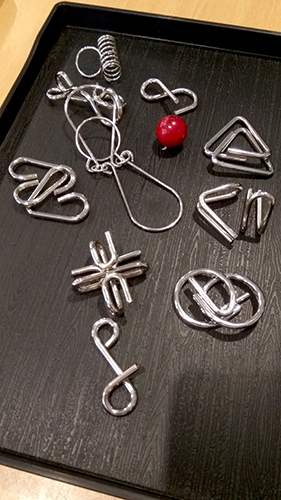 We were offered little puzzles to play with.
Though looking at the decorations, it could have been better if we were to play the Chinese chess. Shortly after there was the first dance performance with Hajimari no Kaze from Saiunkoku Monogatari. Personal opinion, the background music that was playing throughout the day could have suited the dance abit more. I guess it was the Japanese lyrics that throws me out. lol
The table decorations.
As usual, the activity were set up outside the venue. It was one of the activity that I was looking forward to prior to going (Apart from eating). XD
I was sharing the tables with the others until I took over the table... :P
Being paranoid with what should be painted on the fans, in the morning I did a quick look up what to paint on and have decided on Goldfish (if not then Bamboos or flowers). Perhaps I was abit ambitious, it took longer than expect and we were urge to head back in as our food was ready. Perhaps one reason why our food order wasn't confirmed like the previous sessions.
But apart from the food, we were also given the session's badges (Number for the lucky draw)! Bambi requested to get the same number 4, as with his previous sessions just when he entered the venue. And indeed they gave him the number. I ended up getting a 7, still not the same as my previous sessions. lol
7/9 of the menu on the table! Including a bonus one that was offered to us for tasting as I was curious about the chilli-ness (I'm not good with Chilli! orz), which made it 8/9! On a side note, we also had abit of the teaser Cheesecake tasting. =w=
Surprisingly their savoury range are the favourites this time, perhaps something to do with use not having lunch before hand this time. I also enjoyed the Lychee Jelly that I order separately as my forth dish since they ran out last time. That said, I ordered in advance too which gave me 20% discount than ordering after having the food. Majority of the food were abit lightly flavoured, but not in a bad way since my test for sweetness is more extreme. =w=
There were 3 draws this time, two small gifts of Chinese charm of some sort (if my eyes haven't deceived me) and one for next free entry! Though none of us managed to get it. XD
The Second dance performance was Ii Aru Fanclub from Vocaloid. I think generally up beat songs are good as performance to engage the audience. Pity it was done solo due to the limited space.
Painting done with Bambi's fan in Hakutaku drawing style next to mine! Though I would much prefer Maohaohao on it. There was abit of miscommunication which I thought he was drawing Maohaohao.
There was no indoor photo area this time, hence the photos were taken outside. Though the wind from the outside gives it abit more effect. lol Here's one of the girls in Chinese clothing (I like their new staff Sakura's hair do for the day, I was secretly fangirling inside lol). I didn't get to dress up since I was tied to the painting. lol And vice versa, those girls didn't get to do the fan painting since they were dressed up. I would have like to see how I look in one to be honest, but I choose experience over dress up.
The Feedback cookies this time! They keep getting better (They never cease to disappoint me)!
As part of being regular customers (and not having getting draw for the number), we were given some Chinese postcards! XD I secretly think that it was because we were disappointed we didn't get called. lol
One thing I didn't like of the venue was it was relatively smaller than the previous venue. Plus, there didn't seem to be a public toilet to be seen, which I think is important for cosplayers to get change if they intend to go in cosplay. Though nevertheless, Chase is a few minutes down the roads.
Here's one just before the end of the session with the Hakutaku harem SydAni Cafe team in their pretty Chinese style outfits!
For those who missed out again, there will be a round 4 of the SydAni Cafe in mid April 2017 at the same venue! The theme will be school festivals, so there will be alot of activities and cosplays to be seen (Admit it, school uniform cosplay is the easiest!).
Follow their
facebook page
for more updates on future pop ups!