[Event] Princess Closet Reo Kamiyoshi 2017 Birthday Project
For a limited time only!
I admit that it's been a while since I last played the Princess Closet (See my post
here
)... in fact it has been two years!
With the English translation of the game released early in the year, there have been an increased amount of fans for the title which is always great to see!
Now that
Reo
being the only route and other characters routes pending, here's what you could do to help promote by writing something posted on Twitter by the deadline!
Between
12th - 19th April 2017
midnight, tweet your messages with the hashtags #プリクロレオ誕 #princesscloset to take part of the album kindly organised by
Nanami Youko
(An active Princess Closet fan from Japan!) which will be mailed to Ciagram directly by Reo's birthday on 27th April 2017!
Interested? Then read on for more guidelines!
Or simply go to
Nanami's blog post
!
To participate
* Direct message
Nanami Youko
on Twitter or on
Ameba
.
* Tweet with the hashtag #プリクロレオ誕 #princesscloset between the period! Please send a message to
Amaya
on Twitter who will help collect messages in non Japanese languages!
* Digital illustrations are welcomed too! Some ideas include cherry blossom, wedding, working mode, cakes...
Criteria
* Between 12th - 19th April 2017 only! All dates and times are in Japan Standard Time (GMT +9).
* Please keep the word limit within 30 words in English or 140 characters for Japanese messages.
* Include your Handle name (Twitter account name or name you refer yourself to) at the end of the message.
* Use the hashtag
#プリクロレオ誕 #princesscloset
* Digital illustrations with 4cm width x 3cm height as the recommended size.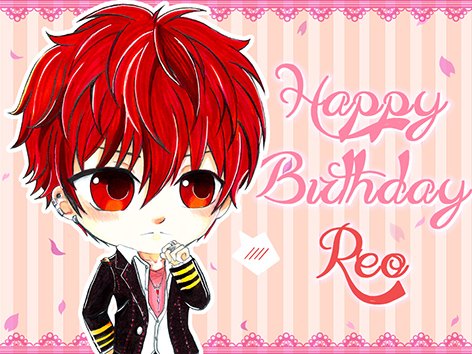 Here's my part for the event! I used 300 dpi instead since I realised the 600dpi that I sent was abit too big.
If you missed out, you could still keep a look out on
Nanami's blog
for more updates!
Her blog is dedicated to Princess Closet!
Otherwise, you could also update
Twitter icon of Reo
on
27th April 2017
(Reo's birthday)!
Special thanks
* Thanks to
Amaya
for the invite!
Wouldn't have known such a wonderful event (Non official) was running for Princess Closet and not to mention was for my favourite route Reo!! I still remember the days when I tried to look up Princess Closet and it would never show the actual games websites in the search.
* Great big thanks to
Nanami Youko
for being the organiser of the event (And inviting the non Japanese speaking community to participate)! We all know that it takes alot of time and effort to put together a album, and the time to mail it out etc. I have a brief messages relay with Nanami last night after my submission and her intentions was to simply to get more exposures for other fellow gamers to know about the game itself!!
I do see quite a lot of great feedback on the app store review, so I think it's a great way to show appreciation of the games that Ciagram releases!
On a side note, there is an official in game event for Reo's birthday called Reo to Kita no Sakura, which goes along the line of Reo trying to find the cherry blossoms in his childhood memories! One reason why I didn't draw Reo in his default outfit. XD
Official Site
theme : Otome Game
genre : Games