[Android] XXX Chome Otoko Out Na Otokotachi!
You're out guys!
Released under the name Kiiro Murasaki (
Masks LLC
)! Unlike the normal SNS messaging games, this one is done like a spot of the difference puzzle!
It's always so easy to get back into the mode of playing short and snappy games with a broad storyline! XD Hence the more regular updates!
No... actually it's just the Easter holiday.
To be honest Yuuto kind of look like a Dame otoko...
Prologue
Just before turning thirty, Fujisaki Airi broke up with her boyfriend who she have been in a relationship for the past 5 years. Although encouraged by various friends that it was the right thing to do, Airi seems to be magnet for Dame Otoko. Now with Christmas just around the corner, will she be able to find the Prince that she have been looking for Or will it be another Dame Otoko?
Characters
It might seems abit unbelievable, but they did do character profiles for the mains and sub characters (You could view them at the top of the episode select screen or within the conversation)! Only the shady characters are without profile!
Fujisaki Airi
Saotome Yuuto
Takabata Jyouji
Yamazaki Chihiro
Murata Shiori
Oojima Miki
Gameplay
Read the conversation that indicates he is a Dame Otoko by tapping on the suspicious message! You'll identify the type of Dame Otoko and progress with the next guy once the correct suspicious message is identified.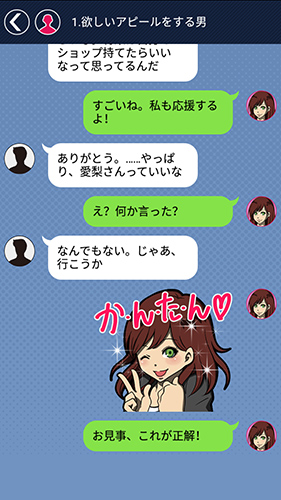 Upon getting the suspicious message you'll get a Airi sticker that says Easy! Otherwise you'll get a Airi Out sticker.
There are 6 Episodes with approximately 10 scenarios (message conversation) per episode. Upon clearing 56 chapters, you will enter the true love story (3 episodes in total)!
Tips
* Tap on the most suspicious looking message which tells you the type of guy they are. I find that it is generally the longest message. lol
* The title of the stage is a giveaway...
* Look at hints if you didn't get the right answer after 3 tries.
* Simply tap on all messages if you can't find it. lol
Thoughts
Having played the game now, I could understanding what XXX means. lol It literally means anything guy, but mostly something that isn't wanted. Such as Otaku! Some types I find were ok to be honest. lol The game is like a condensed version of Doubt Usotsuki Otoko wa Dare (See my post
here
), except there's only one truth in identifying them! XD It'll be interesting to find out which one is the dream guy... or not!?
Spoiler alert
I could tell that Yuuto was going to be the one from at least episode 12 onwards! Just because he's more reactive doesn't mean he doesn't have a liking in Airi! If you checked out his profile within the conversation, he's cold towards anyone but Airi!
The giveaway convo!
I like how the background music also changed when it enters the true love story part. Funny how Airi kept going on about finding the Prince... Yuuto is pretty much the perfect prince!
Looks like Airi always looks for troubles, but only the Prince seeks out to Airi! I think having being in a relationship previously with her ex Boyfriend Jyouji did stop Yuuto from confessing. And seeing that all the type that Airi dislikes, he knows what not to be?! XD
Spoiler ends
theme : Otome Game
genre : Games