[Android] Layton's Mystery Journey
My play history of Katrielle and the Millionaires' Conspiracy part 1
Brought to you by
Level-5
! I gave the case 1 a go on mobile since it was available on the 3DS, plus I haven't landed my hands on a copy yet (Although I saw it the other day but I ended up buying a Vita game instead :P).
Read on for the short post!
Interestingly the screen look like as if they will be on 3DS, only easier to screen capture. XD
Prologue
Katrielle Layton come across a talking dog on the day of her detective agency's opening. The dog who have amnesia, temporary named - Sherl O.C Kholmes - asked Katrielle, along with her assistant Ernest Greeves to solve the mystery of who he is and where he comes from...
Characters
I am slightly tempted to put in the Japanese CVs... but didn't in the end since I didn't get to play it in Japanese (My iPad is getting old so I could only play on Android in English). orz
Katrielle
Sherl
Ernest
Gameplay
If you have played any of the Professor Layton series previously, this game shouldn't be foreign to you. Tap around the surrounding to find hint coins and items which could be collected or used in puzzle. You may find puzzles to be solved upon tapping on characters or items too. You are graded with Picarats points upon completion of each puzzle. The more you complete without using hints or error, the higher your points will be!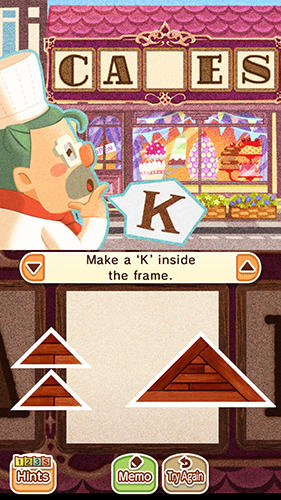 I always like how the puzzles are drawn.
In addition to the main game of twelve cases, the mini games include decorate the room with Fengshui and dressing up Katrielle! This is relatively new... since she's our first female protag!
Tips
* Check in for daily puzzles (mobile only).
* Check out DLC contents! You get Winter wonderland (santa outfit) for Katrielle upon connecting to the internet.
Thoughts
The Japanese version of the game have a extra introduction in the release about Professor Layton gone missing hence his daughter Katrielle started a search for him. To be honest, you would imagine Katrielle being Luke's daughter initially because she was able to understand the animal talking and basically her overall design.
I didn't particularly like the new motto Any puzzle solved, I would much rather Every puzzles has an answer.
Can't remember if I mentioned previously, but I do look forward to any further development between Ernest and Katrielle. lol Am I the only one that felt something when he just becomes her "personal assistant" randomly and strive to prove himself useful in puzzle solving (in order to pursue Katrielle or simply just be by her side)? XD Otherwise he's probably just a fanboy of "Layton". Regardless, I get a feeling there will be a sequel given the title Layton's Mystery Journey (Despite the fact that I only playing the first case)...!?
Official Site