[iPhone] Ikemen Live Koi no uta wo Kimi ni
A love song in a soundless world
Brought to you by
Cybird
! This one falls into their Ikemen love series to my surprise! Remembering that I had this installed since following the AGF (
Animate Girls Festival
) made me realised how undermine this one is since it's released! As usual, I'm loving the drawings by Satoi who is known for Diabolik Lovers and OzMafia!! I never got around to her new works with Honey Bee so this is it for me!
Interesting how the title isn't obvious that it's part of the Ikemen series... XD
Prologue
In the world where the freedom of song is forbidden by the Music Controlling Bureau Ryuugi, Haru, a popular band vocalist picked up your music score that you lost in the wind. You were then taken to Sakuragi, a song sharehouse where you will create the dream song together with one of the member of the popular bands Hounds and Silver Vine and for them to perform at the secret live "Own the Night"...
CharactersHounds / F
Suma Haruto (CV: Kenn)
Shinonome Eisuke (CV: Taniyama Kishou)
Aizumi (Suou) Gaku (CV: Kaji Yuuki)
Ginnami Ritsu (CV: Aoi Shouta)
SilverVine
Mashiro Kanade (CV: Fukamachi Toshinari)
Chigusa Kyouichirou (CV: Itou Kento)
Amamiya Henri (CV: Ookawa Genki)
Aizumi Koki (CV: Kondou Takashi)
Fujishiro Meguru (CV: Kuroda Takaya)
Ginnami Yuzuru (CV: Ueda Keisuke)
Tsubaki Makoto (CV: Ono Yuuki)
Mokuran Shuuji (CV: Ichikawa Taichi)
Gameplay
We could really use some special drawing for the cover to make them more like a band than just 4 characters thrown together...
You are given 5 free story ticket each day. There are two endings which are to love and to be love ending for each route that you have chosen. Love keys are required to unlock the story from his perspective. There are some mission checks in between so you need to ensure you have the requirements fulfilled prior to continue on with the story!
Chibis!
Spend some off time together by tapping on the characters at various locations around the neighbourhood to increase the love meter, which helps unlocks mini talks and special stories.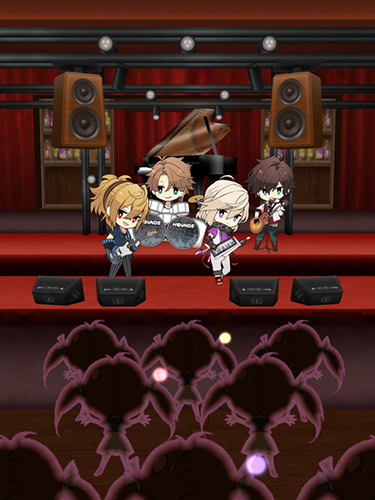 Secret live performances! The audiences looks more like dancers. lol I think they should allow us to decorate the secret live stages more than having a separate room...
There are live event where new songs are played every month! You could choose the live venues which are ranked by live voltage between easy, normal and hard. When participating in the live event, you listen to the short demo of the song, or if you could skip the song to get the final result. Remember to change the SP to get enough live Voltage! SP are replenished every 15 minutes with a maximum of 5 SPs.
Thoughts
So the idea is... song writer x singers who stays at the same location (sharehouse)... so it's pretty much Utapri! lol Not to mention her childhood friend Shuu also cross dresses...! So even that character type is covered!
Visually I went for Ritsu first but at closer glance, Kaji voice Gaku that is not available until much later! orz Hounds is probably more to my taste compared to Silver Vine, but seeing the side characters made me hope for special routes for Ridou / Karasu / Yuzuriha! XD
The gameplay wasn't the best i must say. First you collecting mission stamps and then collecting the presents. it haven't been the quickest either. You need to click on to the card / co-ord / item to collect! 3 separate times! orz Not to mention the gacha rate haven't been the best (for me at least) either. Diamonds are hard to earn, so we rely mostly on the hard earned tickets. I highly recommend playing the event whenever they're on since that gives you more avatar items instead of spending money to buy them. lol Focus all on the cards! But more importantly, since it keeps kicking me out of the game from time to time... I think I'll only be playing this casually...
Official Site
theme : Otome Game
genre : Games