[PSP] Isshoni Gohan Apartment Dinner Show
Food Genjika
So, I've finished reading the manga version Isshoni Gohan Takitate by Maruyama Noriko! Though the character design is done by Yukihiro Utako, who did the popular series Shounen Oujo and Makai Ouji Devils and Realist (Both of them are great read and highly recommended!). Further I finished listening to the Drama CDs for the series as well...
Thought that I have fully prepared myself prior to the release for the PSP game by Avex Entertainment x Otomate, which have been delayed to next year anyway. lol
Hence, without further delay I thought I'll just post this entry out!
Story
1st Year student of Business Mugibata Akane (
Wheat
) transferred into Karenjaku Cooking University for the sake of family restuarant. Through working too hard at her part time jobs, she fainted on the road and was asked by the person who helped her out to become the substitute caretaker to Meshikasou, the dormitory apartment where the various students and graduates from the Karenjaku Cooking University resides!
Characters
I like how the author relates the food names into the character's name.
Though you'll notice that I've placed alot of "?" throughout the food they represent as they're not always so straight forward apart from the main characters! :P
Yoneda Hikari
(CV: Kaji Yuuki) - Rice
2nd Year student of Business who's hopeless at cooking. The only thing that he cooks well is miso soup. Optimistic and kind hearted nature.
Karasawa Rei
(CV: Ono Daisuke) - Spice (Curry?)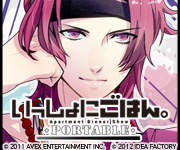 A "Do S" graduate who works at an Indian Curry Restaurant. Addicted to curry, adds "his style" curry basically to all food.
For some very odd reason he reminds me of a Genjika version of Giroro from Keroro Gunsou (Personality and hair colour!?). XD
Daitou Natsu
(CV: Tsuda Kenjiro) - Natto
4th Year student of Japanese cooking. Sole heir to a traditional Japanese restaurant. He's the only character in the apartment who heavily focus on the rules, he's known as the Apartment prefect.
Toriyama Yousuke
(CV: Shimono Hiro) - Chicken
Popular in the University.
Umino Riki
(CV: Suzumura Kenichi) - Seaweed
3rd year student of Japanese cooking. A stylish DJ who appears to be the most carefree in the arpartment.
Unoha Nao
(CV:Jun Fukuyama) - Bean sprout
4th year student of food modeling. He's not good with sunlight and often not show up at university.
SubcharactersHayashi Ruu
(CV: Hino Satoshi) - Strew
2nd Year student in Western cooking. Always smiling. He's actually the younger brother of Karasawa.
Tama Ranmaru
(CV: Yonaga Tsubasa) - Egg
1st year student of Western cooking. Cute guy who doesn't look like an university student. Mascot of the Apartment.
Hanba Gunji
(CV: Miyake Kenta) - Hamburger
2nd year student of Western cooking. Former captain of the baseball club, he could easily wield heavy pans. Presense of a older brother.
Satou
(CV: Hatano Wataru) - Microwave
The person who helped Heroine when she fainted. He's actually an Android.
Manga
The manga itself was only 2 volumes, which makes it kinda a light reading. If you simply replace Yoneda with a girl character it's already a reverse herem manga!
(Everyone seems to be so drawn to Yoneda!) Suppose that's the point anyway! XD
DramaApartment Dinner Show
With heavily implied BL scenes (where they all sweat and moan just like they did with the manga, though of course, it's nothing like that XD) at the beginning of each volume (Total of 6 volumes),
you follow Yoneda to learn about each new character introduced and how to cook a dish that relates to their food name! Bonus tracks include character interview by Satou.
Arakaruto
Newly monthly release for 2012 because of the PSP game to come (Probably why they delayed the game to next year so that they could release all the dramas first). Similar to the Apartment Dinner Show series, this one also have 2 chapters in each CD. Have to say that I like the initial theme song
Forever White
more than this current one
Day by Day
. Though saying that they pretty similar in terms of beats. XD
Official Site - Game
Official Site - Drama
theme : Otome Game
genre : Games