[Anime] 2012 Summer / Autumn Anime
Anime this summer / autumn
This is more like a reminder journal for myself.
No actual release date yet for most of them yet, though I'm excited for the following anime coming in the next half of the year!
Going on a hiatus probably after this post since I'm convention prepping!
...I'll update whenever I feel like procrastinating!
2012 Summer
Moyashimon Returns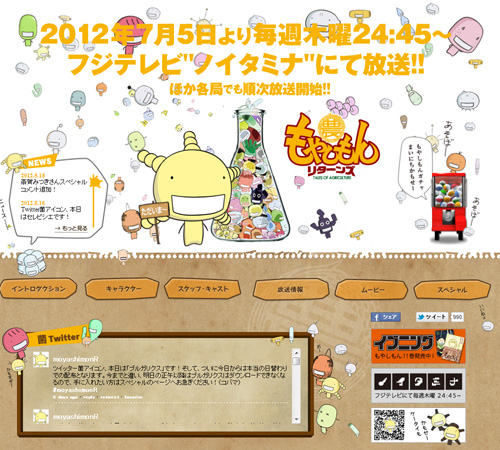 My beloved bacterias will be returning!
It was actually a surprised find when I saw this on the 2012 Summer anime list! I was once addcited to it when I was still tegaki-ing (My
about me
picture on Tegaki is still Moyashimon though!), and then I met Vocaloid, so I drifted away from them. Watch it to find all the cute bacterias around you everyday. lol
Arcana Famiglia -La storia della-
My current addiction...! Arcana Famiglia designed by
Sarachi
!!! This is gonna be the next hot topic for Otome anime!
Having listened to the 2 Drama CD and the first game, I find all the characters lovable! (Yes, that includes the older characters too!) Further, I plan to do Felicita cosplay sometime this year... XD
Kokoro Connect
Hakuouki Reimeiroku (& Special OVA Sekkaroku!)
Not particularly hyped for Reimeiroku due to the ending of Hekketsuroku. :/ Though if that means there'll be more Kazama appearance, I'm in for it. lol
THIS IS TO DIE FOR!
Can't wait! >
////////////////////////
< I want the limited edition!
2012 Autumn
Tonari no Kaibutsukun
WOOT! After 2 release of drama CD accompanying with the special edition of the manga, they've finally decided to make anime out of it! Also one of my addiction (lol Too many to name!?) but I can't wait to see TSUDERE YAMAKEN in action! XD Did you notice Yamaken's name is right underneath Shizuku's name!?
(It means he's more important than Haru!? lol Not that I don't like Haru... I just happened to like Yamaken MOAR as seen in
my review on Vol 5 of the manga
!)
I was kinda disappointed that Kaji Yuki was replaced for the character of Yoshida Yuuzan. I hope the seiyuus for the anime is as good as the dramas!
Sukitte Ii Na Yo
The anime adaptation was announced along with Tonari no Kaibutsukun on the cover of July12 issue of Dessert Monthly comic magazine! Takahiro Sakurai still got the role of the male lead! YES!
Actually both the main characters remains the same as the Drama for the anime!
theme : Anime
genre : Anime/Manga