[Anime] Arcana Famiglia Episode 1
La storia della Arcana Famiglia
So yeah I watched it! So happy! XD Waited so long for it!
It stayed true to the game and manga! :D But it felt so short I need moarrrrrr episodes soon.
The reason why I really like Arcana Famiglia is because all the characters have very unique personality. (It could be because I have a thing for Mafia and military! lol) Particularly, just purely listing to their Drama CD you could understand their character's personality!
Mind you, all the routes in this game is so sweet! XD
Read on for my thoughts for the route that the anime is going for! XD
I'm too lazy to upload a new picture - I love the original art by Sarachi!
Characters
So glad that they didn't change the character voice from the game and Drama! They're too good to replace.
Left to right. Oh wait, let me
abuse
great banners from the game! XDDD
Felicita (CV: Noto Mamiko) - Card VI Gli Amanti (Lovers)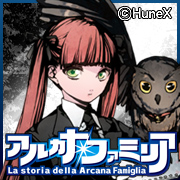 Liberta (CV: Fukuyama Jun) - Card I Il Matto (Fool)
Nova (CV: Yonaga Tsubasa) - Card XIII La Morte (Death)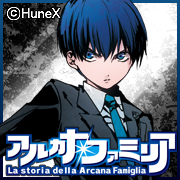 Debito (CV: Yoshino Hiroyuki) - Card IX L'Eremita (Hermit)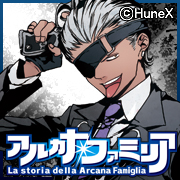 Pace (CV: Sugita Tomokazu) - Card XI La Forza (Strength)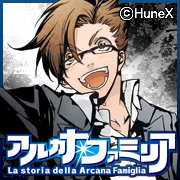 Luca (CV: Nakamura Yuuichi) - Card XIV Le Temperanza (Temperance)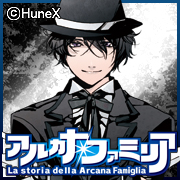 Dante (CV: Kosugi Juurouta) - Card IV L'Imperator (Empire)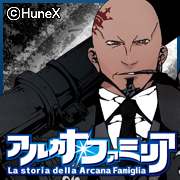 Jolly (CV: Yusa Kouji) - Card XVIII La Luna (Moon)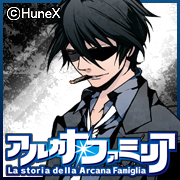 Still trying to figure the route they're going for the anime. I think it'll be the trio - Liberta and Nova (or likely all happy together end). The other characters groups (Slight older group - Luca/Pace/Debito vs much older group - Jolly/Dante) probably too old to make a pairing out off (though I didn't mind it in the game XD) - probably not on air. I was kinda hoping Luca (But he plays too much of a fatherly role lol. And since Jolly's probably too old hahaha) might be main... but need more episodes first!
Slightly thinking Felicita
might
end up with Liberta because I think Fukuyama Jun is more popular?! *Is bias*
Supporting evidences on routes
* Nova and Liberta appears before all the other characters
* Opening song ended with the weapons of the Felicita, Nova and Liberta
* Felicita saw Nova and Liberta's thoughts
* Ending song is sung by Nova and Liberta
Can't wait until my other
interested anime
to be released on air. That aside, I have just confirmed with my friends that we'll be going to this year's
Winter Comiket
!!!
Official Site
theme : Otome Game
genre : Games