[Cosplay] Inu x Boku SS
Are you a S or a M?
The song
S
M
Hantei FORUM is stuck in my head when I was doing the post editing of the photos... I blame it on Kagerou (CV: Tomokazu Sugita - I can't get Gintoki's image out of my head). orz This is backdated photo post from
Manifest Sunday
! We HAZ whole group at last! Special thanks to Bambi for making last minute Oniisan!
Also special thanks for Dezmin being our last minute group photog!
Characters:
Ririchiyo (Demon Version) @ Dewmelen
Soushi (Demon Version) @ Haruki
Karuta @ Dee
Kagerou @ Steve
Maniac
Nobara (Demon Version) @ Kurako
Renshou (Demon version) @ Bambi
Natsume @ Bambi
Watanuki @ Nabari
Photog @ Dezmin & Bambi (Because I like crack photos XD)
I'll be the sorting them into
S

or

M
for you below the cut.!
準備は良いか! よーし! 行くぞ!
Are you ready?! So! Let's go!
Group photo first up! It was decided that we stand infront/behind of our SS on the stairs (

M

- because its likes to be stepped on), and girls in the front... but wait a sec!? Why am I (Watanuki) standing in the front!? orz
Photo by Dezmin (

M

- because he likes to be directed how to shoot! J/k He haven't seen the anime so didn't have much knowledge on how we should be positioned), Post Edit by Nabari
If only our Kagerou (

S

- because he don't like to listen to orders and likes to be different!) is in Demon version too, otherwise this would be awesome!
Photo by Bambi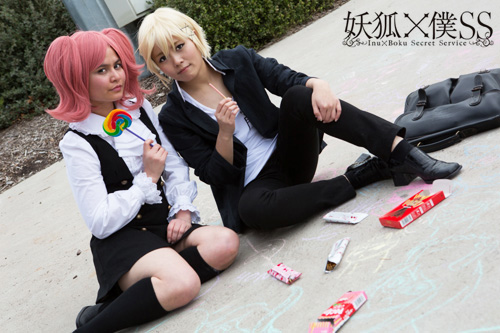 We didn't have a chance to go to asian grocery to get junk food for Karuta (It's hard to find in Melbourne?), so I ended up getting some Omiyage (Pocky) at the vendors. We were lucky that there were chalk drawings on the floor (

M

- because it likes to be drawn on) which seems quite fitting for some Karuta x Watanuki force feeding school life photos. Wait
, I mean Watanuki x Karuta (Because I'm a

S

)!
Photo by Bambi
Yukionna + Oniisan @ Nabari - if you look closely enough!

Photo by Bambi
We realised that Oniisan wears the same school uniform in human version as Watanuki so here's a Oniisan Omake! XD
Photo by Bambi
The bully Trio! Kagerou (

Chou Do S

) did poke me with the sword and Natsume (

S

) was poking me with the stick, and Soushi (

Do S

) was enjoying the moment of bullying. ARGH. After looking at the photos again I realised it's the time when everyone smiles/laugh the most for this shot.

Photo by Dewmelen (

S

- because she lend Kagerou the sword and was laughing as she was taking photos) with Bambi's camera
Another group photo to end this post! Somewhat the edit feels like it was meant to be there...
Photo by Dezmin, Post Edit by Nabari
In conclusion! YOU ARE A
M
! *points at you on computer* Yes
YOU
! You've read this post long enough to hurt your eye by looking at all the photos from this shoot, so you're a
M
!!! Which makes me the one typing and posting this post the
S
! MWUHAHAHAHAH!
Now click Clap below! I demand you! XD
theme : Cosplay
genre : Anime/Manga